Research to Make a Better World
The UC Berkeley Rausser College of Natural Resources is proud to be an integral part of the number one public research university in the world. From working on climate change-related issues to studying agriculture and energy policy, to understanding the metabolic causes of human disease, our research is focused on societal issues. 
In addition to the laboratories affiliated with individual faculty members, the College is home to—or closely affiliated with—numerous topic-based, interdisciplinary centers and facilities.
Research Centers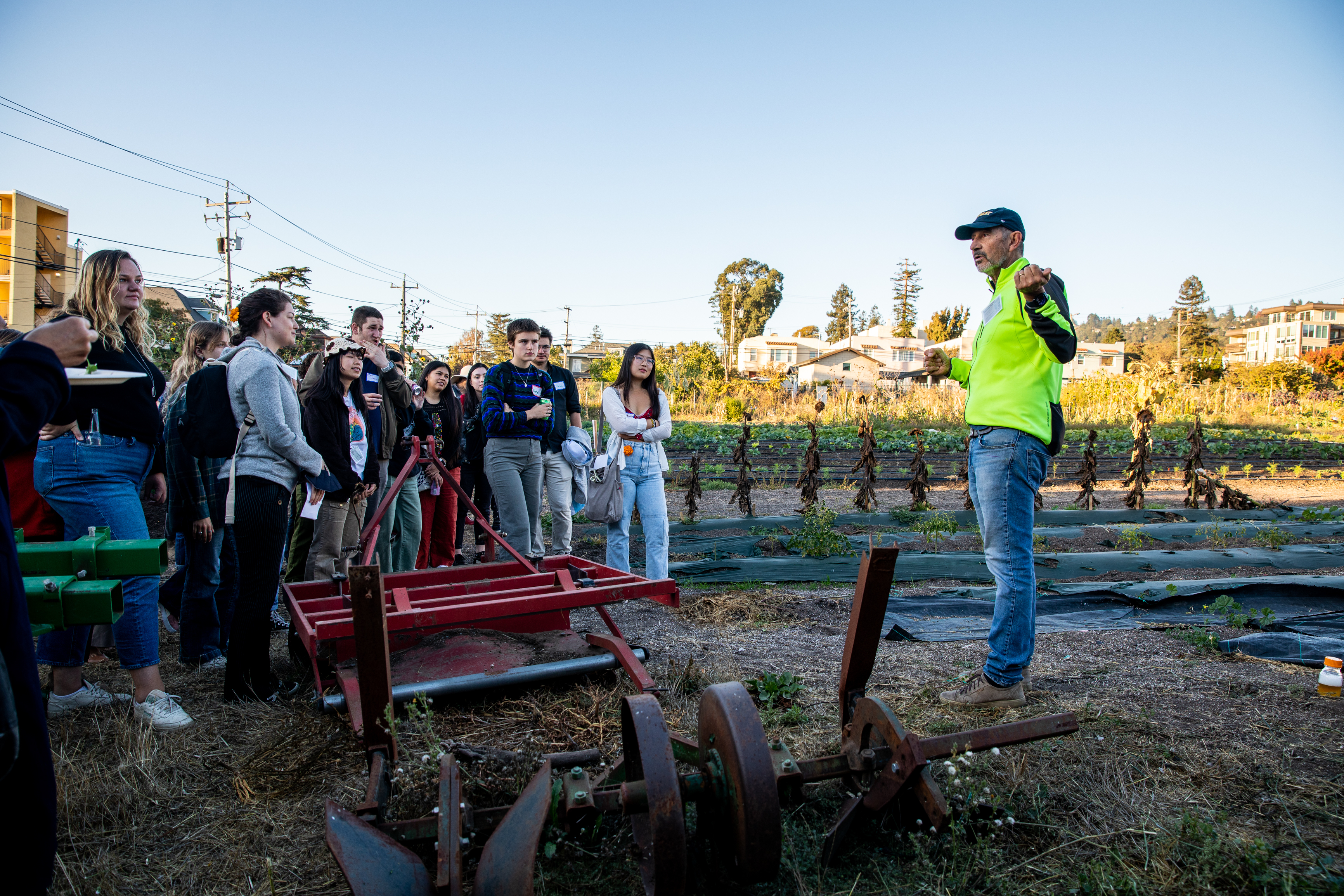 The Berkeley Climate Change Network helps to advance climate research, education and impact at UC Berkeley and Lawrence Berkeley National Lab. 
The Berkeley Cannabis Research Center is a hub for interdisciplinary scholars researching the social and environmental dimensions of cannabis agriculture and production.
Berkeley Food Institute is a coalition of five schools and colleges across campus. It works to catalyze and support transformative change in food systems and to promote diversity, justice, resilience, and health, from the local to the global. 
Berkeley Forests carries out research, outreach, and education designed on human interactions with California ecosystems.  In addition to research on five research forests, Berkeley Forests works across California's forested regions and wherever fire and natural vegetation interact.  Through this work, it hopes to better understand current and future risks from fires, air pollution, pests and diseases; the effects changing climate and changing social needs have on the growth and yields of timber species; water supply and quality; greenhouse gas fluxes related to forest vegetation, soils and harvested wood products; and how all of these will affect rare plant and animal species. Berkeley Forests was created through the merger of the Center for Forestry and Center for Fire Research and Outreach – a reflection of the inextricable link of forests and fire in California.
Berkeley Institute for Parks, People, and Biodiversity is devoted to the investigation, dissemination, and application of science to the critical issues facing national, state, and local parks, and equivalent protected areas.
The Berkeley Natural History Museums are a cross-disciplinary consortium of seven museums and field stations that serve as both biodiversity and cultural repositories and centers of research. They share the common goals of conducting research, leading education and public programs, building knowledge networks, and facilitating access to museum specimens and biodiversity archives.
Berkeley Water Center, a partnership with the College of Engineering, takes a comprehensive approach to water resources research and management that reflects the conditions of the 21st century: diverse water interests, variable and uncertain supply, increasing demand, and inadequate structural and institutional infrastructure.
The California-China Climate Institute works to spur further climate action through joint research, training and dialogue in California and China. Led by former California Governor Jerry Brown and vice chaired by Mary Nichols, the Institute informs national policy makers, fosters dialogue and cooperation, and promotes the implementation of climate solutions at all levels.
UC Berkeley is the host campus for the Californian Cooperative Ecosystem Studies Unit, a federally sponsored research and education consortium collaborating on projects across the biological, physical, social and cultural sciences. Members include all nine general UC Campuses, several California State University Campuses, Stanford, University of Southern California, California Academy of Sciences, Smithsonian, and other research and education groups.
Center for Effective Global Action is a hub for research on global development, with a network of over 50 academic researchers at several universities measuring the impacts of large-scale social and economic development programs and integrating economic analysis with expertise in agriculture, public health, education, engineering, and the environment. 
Center for Green Chemistry seeks to bring about a generational transformation toward the design and use of inherently safer chemicals and materials, through research and community engagement. 
The Climate Equity and Environmental Justice (CEEJ) Roundtable at UC Berkeley is a multidisciplinary group of scholars dedicated to advancing research on human-induced climate change and the disparate impact it has on marginalized, racialized, and underrepresented groups. 
The Energy Biosciences Institute (EBI) is dedicated to helping the world transition from a carbon-based fuel strategy to one that incorporates sustainable, environmentally friendly fuels into a balanced portfolio of responsible, renewable energy sources. A partnership between UC Berkeley, Lawrence Berkeley National Laboratory, and the University of Illinois at Urbana-Champaign, the EBI also includes multiple sponsors from across the energy sector with interests in advanced energies, biomaterials, green chemistry, and industrial biotechnology.
The Energy Institute at Haas helps create a more economically and environmentally sustainable energy future through research, teaching, and policy engagement. The Institute is a collaborative effort between the Haas School of Business and the Department of Agricultural and Resource Economics.
The Innovative Genomics Institute is working to advance revolutionary genome-editing tool development for affordable and accessible solutions in human health, climate, and agriculture. 
Plant Gene Expression Center uses molecular, genetic, and biochemical approaches to conduct fundamental research in plant molecular biology, including disease resistance, light perception, the circadian clock, vegetative growth, and reproduction, elucidating the essential genes and networks within which they operate. 
Research Facilities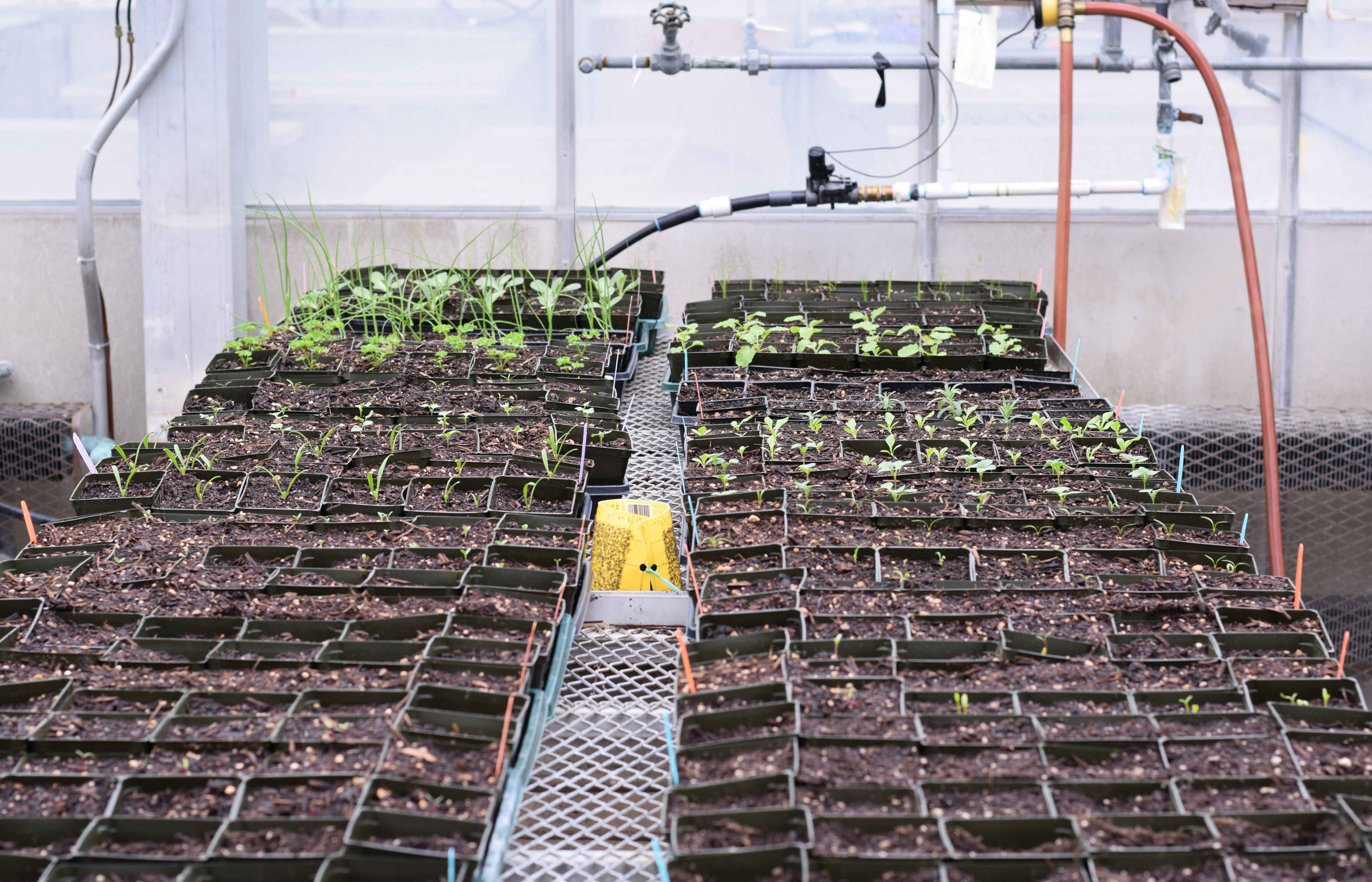 A group of research plants in the Oxford Tract greenhouse.
Biological Imaging Facility is a core miscroscope imaging lab specializing in widefield, confocal, deconvolution, and super-resolution fluorescence microscopy. 
Inductively Coupled Plasma Spectroscopy Facility provides expertise regarding the use of mass spectroscopy and inductively coupled plasma spectroscopy.
Geospatial Innovation Facility provides leadership and training across a broad array of integrated mapping technologies, with a goal of helping people better understand the changing world through the analysis and visualization of spatial data.
The Gump Field Station advances the frontiers of biocomplexity research and sustainability science through operational, technological, and informational support for programs in the world's leading model ecosystem—the island of Moorea, French Polynesia.
Oxford Facilities Unit, known as the Oxford Tract, is a plot of land adjacent to the Berkeley campus that is home to a large greenhouse facility, an insectory, a student organic garden, and experimental field plots.
The Gill Tract is an experimental field plot in use by faculty members in various agriculural and plant sciences, and is home to an ongoing community engagement project.
The UC Natural Reserve System supports university-level teaching, research, and public service at protected natural areas throughout California. See also CESU Field Stations.
Financial Support for Research
Californian Cooperative Ecosystem Studies Unit
Ciriacy-Wantrup Postdoctoral Fellowships
SPUR: Sponsored Projects for Undergraduate Research