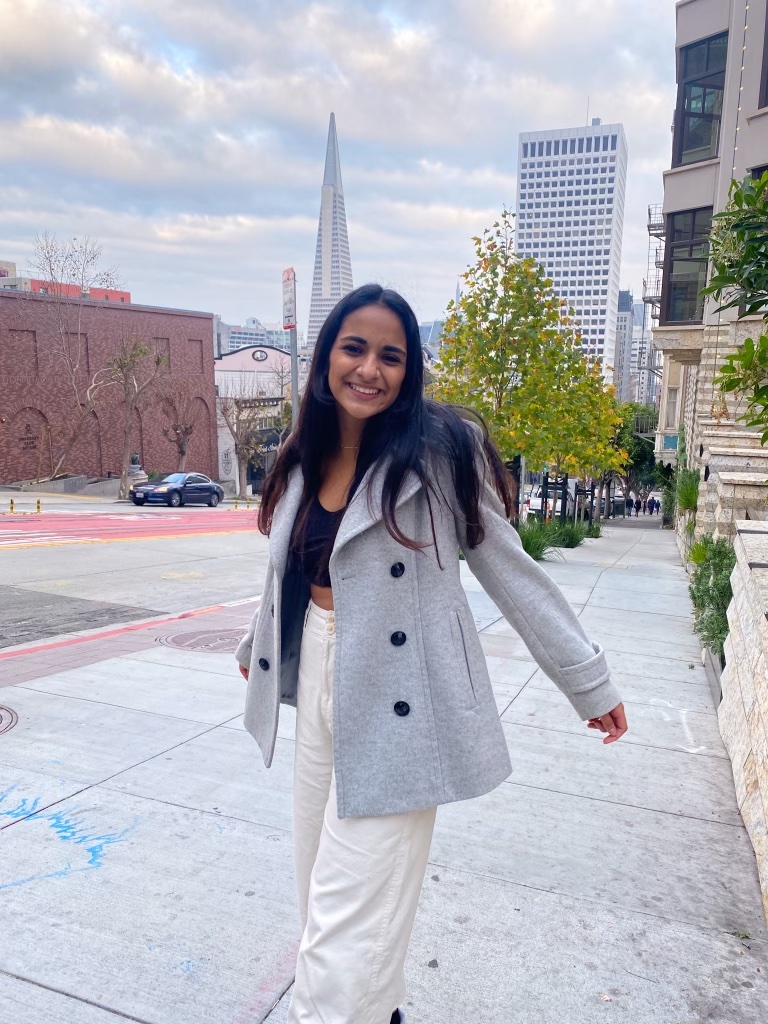 Photo Courtesy of Tanmayi Patharkar
Last summer, third-year microbiology undergraduate Tanmayi Patharkar joined researchers from the lab of professor Ian Wang during a three-week field excursion on the Greek island of Andros.
Part of the lab's research focuses on the evolution of color and other traits in Aegean wall lizards (Podarcis erhardii), an island-dwelling lizard native to the Greek Cycladic islands. These lizards have evolved for thousands of years on islands with distinct ecologies—resulting in physical and behavioral differences within the species. Wall lizards on some islands have been observed eating non-traditional food items like plant material or even the body parts of other wall lizards. 
During the research trip to Andros, Patharkar documented the first known instance of a wall lizard eating a large, venomous centipede (Scolopendra cingulata). This species of centipede has been observed preying upon wall lizards themselves, so the observation raises additional questions about the predator-prey relationship on remote islands. Patharkar's finding was published last fall in Herpetozoa, the open-access journal of the Austrian Herpetological Society.
We recently caught up with Patharkar to hear about her research and her experiences in Rausser College.
This conversation has been edited for length and clarity.
Why did you choose Rausser College?
I grew up roughly 30 minutes from here and really wanted to be close to home, so in a way, UC Berkeley felt like a natural choice for me. I wanted to pursue something in pre-health but I also cared about the environment. Truthfully, I didn't know much about microbial biology when I was admitted, but I think I made the right choice. There are so many environmental microbes that I can study if I want to work in the field, or I could focus more on microbes that relate to medical research. Rausser College is also a very close-knit environment with great advising and resources not available at other schools.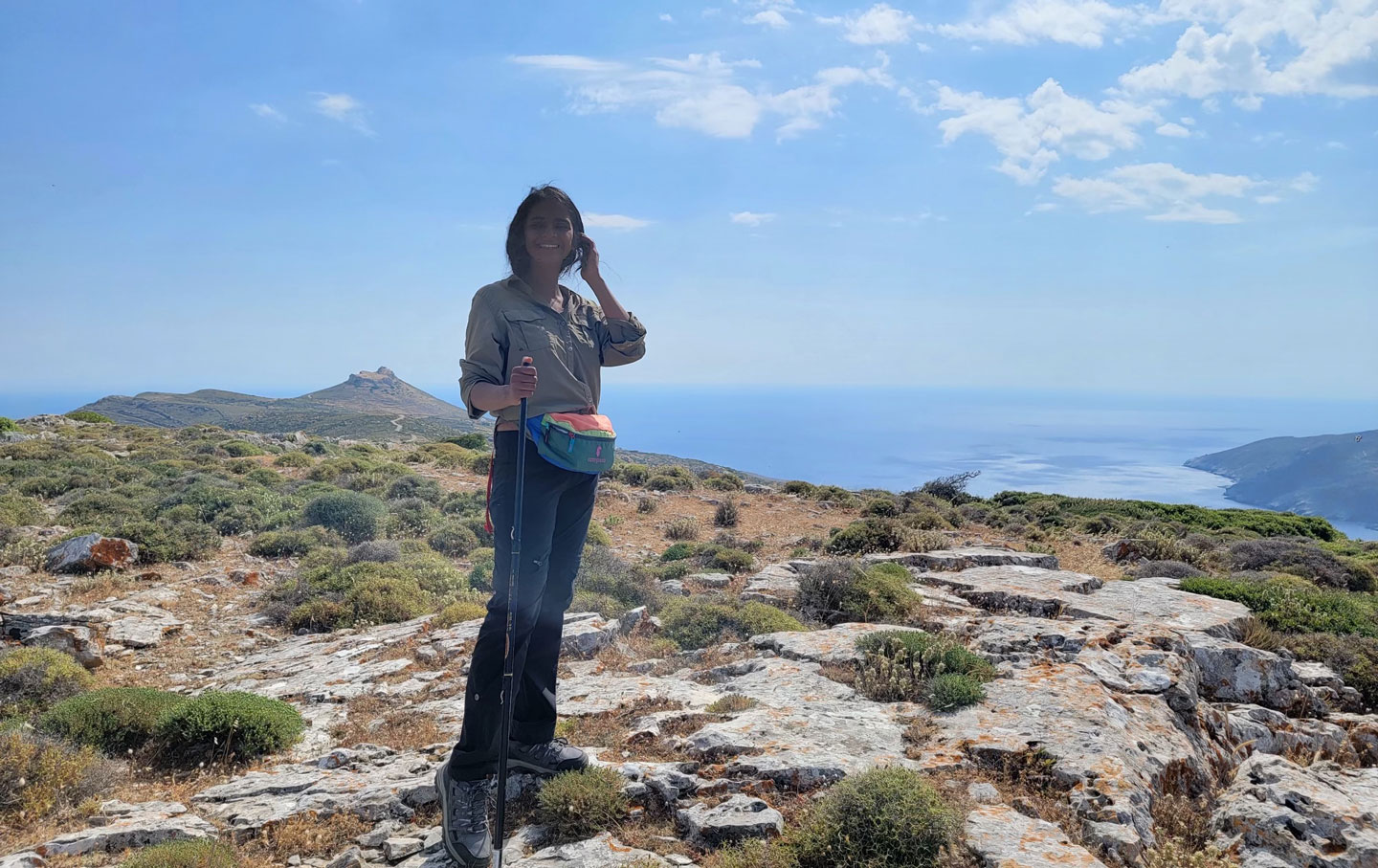 Patharkar on the Greek island of Andros, where she conducted field research last summer. Photo Courtesy of Tanmayi Patharkar.
How did you have the opportunity to study in Greece?
I applied for a position in the lab of Environmental Science, Policy, and Management professor Ian Wang through the Sponsored Projects for Undergraduate Research program in my second year. Postdoctoral researcher Kinsey Brock—who studies the ecology, evolution, and behavior of the Aegean wall lizard in Greece— led the project that fall and spring. She views herpetology through an evolutionary lens, which drew me to that project because I was interested in focusing on evolution and the environment. I applied for both a travel grant and a student-initiated project grant, which supported my travel to Greece with the research team last summer.
Can you tell us more about your observation?
We had just woken up that morning and were preparing to head out for the day when we saw this group of lizards. Aegean wall lizards are very bold, confident animals that feed on insects and invertebrates like beetles, and spiders. As we were leaving we saw this lizard with something hanging out of its mouth, which I thought was kind of weird. We managed to get some good pictures before we caught the lizard to take some measurements. We thought the lizard was eating a scorpion or something similar when we first caught it, but Dr. Brock sent some pictures to a friend, who had done research in this area in the past. He knew of a centipede—which is both venomous and has been seen eating the lizard as prey—that is common in the area. After examining the pictures more closely when we came back from Greece, we realized that the lizard actually had a centipede in its mouth.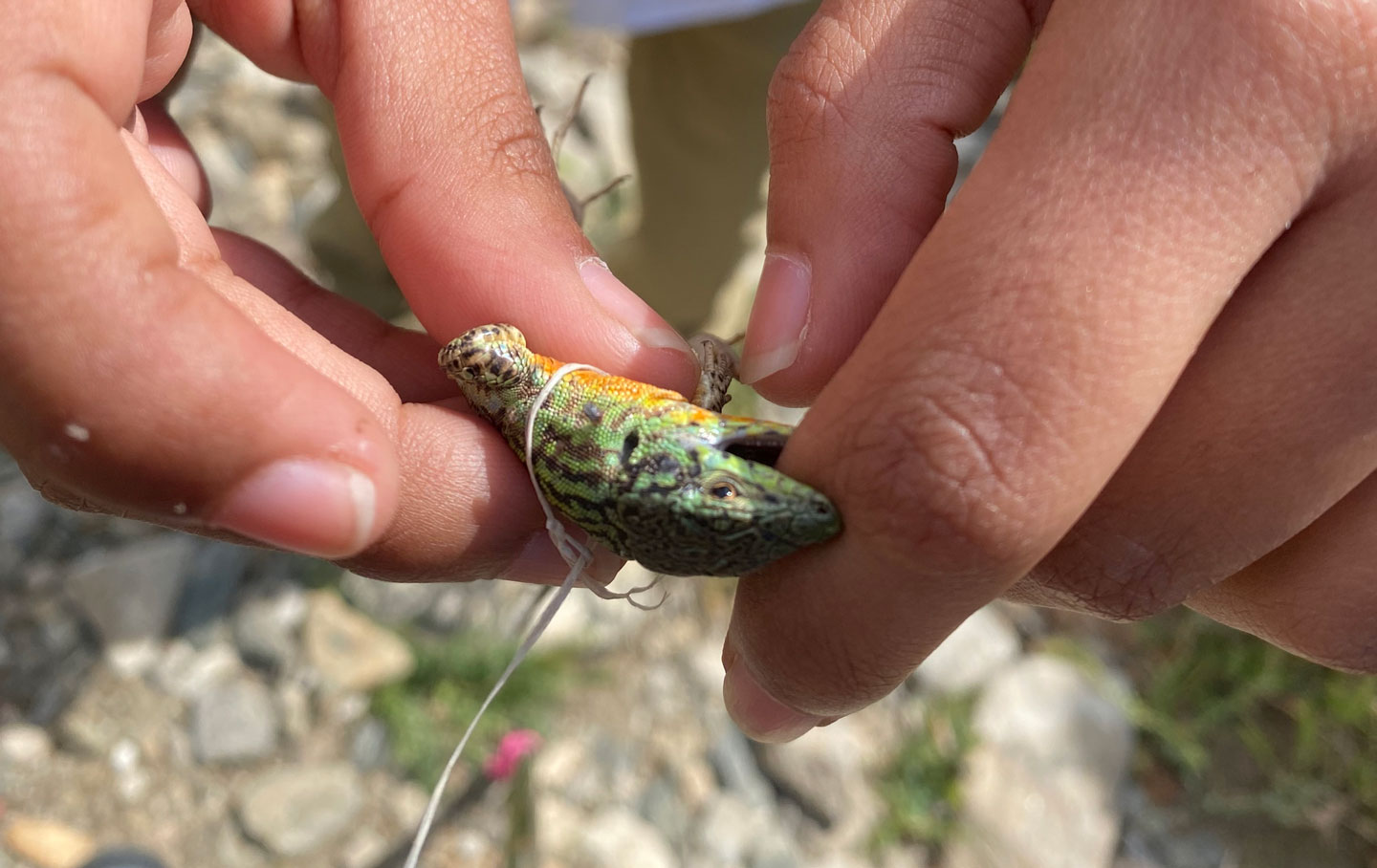 A close up of an Aegean wall lizard. Photo Courtesy of Tanmayi Patharkar
What was the process of preparing your finding for publication?
I have always been interested in writing, so while we were in Greece, I asked Dr. Brock if this observation was something I could try writing up. She's always been very supportive, and while I didn't know if it would get published I thought it would be a good opportunity for practice and started writing on the plane. Once we got back and realized that the lizard wasn't eating a scorpion, I ended up changing a little bit of my draft and did some more research. We eventually knew that this observation was something that a journal might accept, but I had no expectation that I would ever be published as a first author. I was very fortunate to have this opportunity.
What advice do you have for students who are interested in research?
I've learned to ask more questions or ask for more opportunities. In the past, if I wanted to try something, I was apprehensive about asking for the opportunity or waited until it was offered to me. But through these research opportunities, I've realized that sometimes the more you ask for the more you'll receive.
Having good mentors also helps. Dr. Brock has been fantastic—she's one of the best mentors I've ever met. I'm really happy that I found someone who can guide me through research because, the more time I spend doing research, the more I understand that it is impossible to really learn everything. I'm really happy to be doing my honors thesis in the Wang lab. Jennifer Wagner, who is a graduate student in the lab of Integrative Biology professor Cynthia Looy, has also been a great mentor. I took a class with professor Looy during my first year and was really interested in what she was doing. I was able to get my first research opportunity with her through the Undergraduate Research Apprentice Program. 
How do you like to spend your free time outside of class?
My creative channel has always been writing. I did a lot of it in high school but when I came to Berkeley, I had an opportunity to do science-based writing where I can use language that I like to use. Last year, I joined the Public Health Advocate, which is a public health journalism club for undergraduates. We have a publication—I'm on the editorial board and I edit people's articles—and I also teach the DeCal class once a week. Facilitating the DeCal, meeting people, and reading their articles has been very rewarding for me.
Do you know of a student or group in Rausser College involved in noteworthy research, community outreach, or extracurricular activities? Let us know by submitting a suggestion with this nomination form.