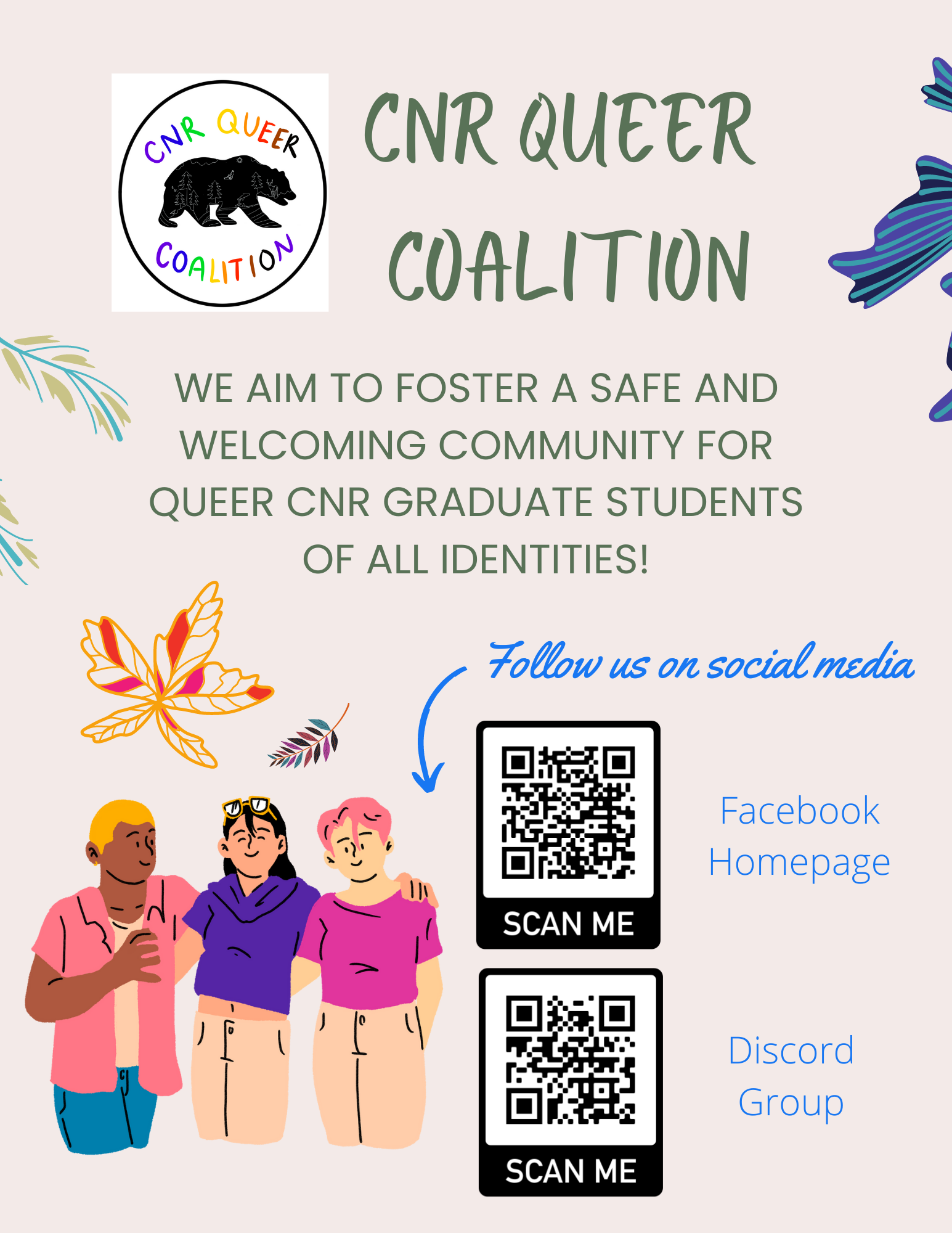 Graduate students throughout Rausser College of Natural Resources have banded together to form a new student group focused on fostering community for their peers who identify as Queer or LGBTQ+.
Ryan Kenneally and Vanessa Komada, graduate students and organizers of the CNR Queer Coalition, hope to foster connections across Rausser College's five academic units and demonstrate to current and prospective graduate students that they will be supported at the College.
"Graduate work can be very insular, and this structure means that students can complete entire degrees without meeting their peers in neighboring departments," said Kenneally, a PhD student in the Department of Plant and Microbial Biology. "We realized that there was great potential to build a thriving queer graduate community, and the first step we needed to take was to connect people."
Interested graduate students are encouraged to join the CNR Queer Coalition's Facebook group—which will serve as a repository of events, resources, and announcements—and Discord channel, which will facilitate most day-to-day communications with members. The group plans to host social events, invite speakers, and highlight Queer people in STEM as the group grows.
"Most other existing university groups for queer students seem large, primarily focused on undergraduates, or are not very active online" added Komada, a masters of forestry student in the Department of Environmental Science, Policy, and Management. "We thought that something smaller with just CNR would help foster new relationships better."
The Coalition hopes to co-host an event with CNRainbows, the organization for LGBTQ+ identifying staff members at Rausser College, later this semester. Individuals interested in learning more about the organization can email Kenneally at rken2794@berkeley.edu or Komada at vkomada@berkeley.edu.