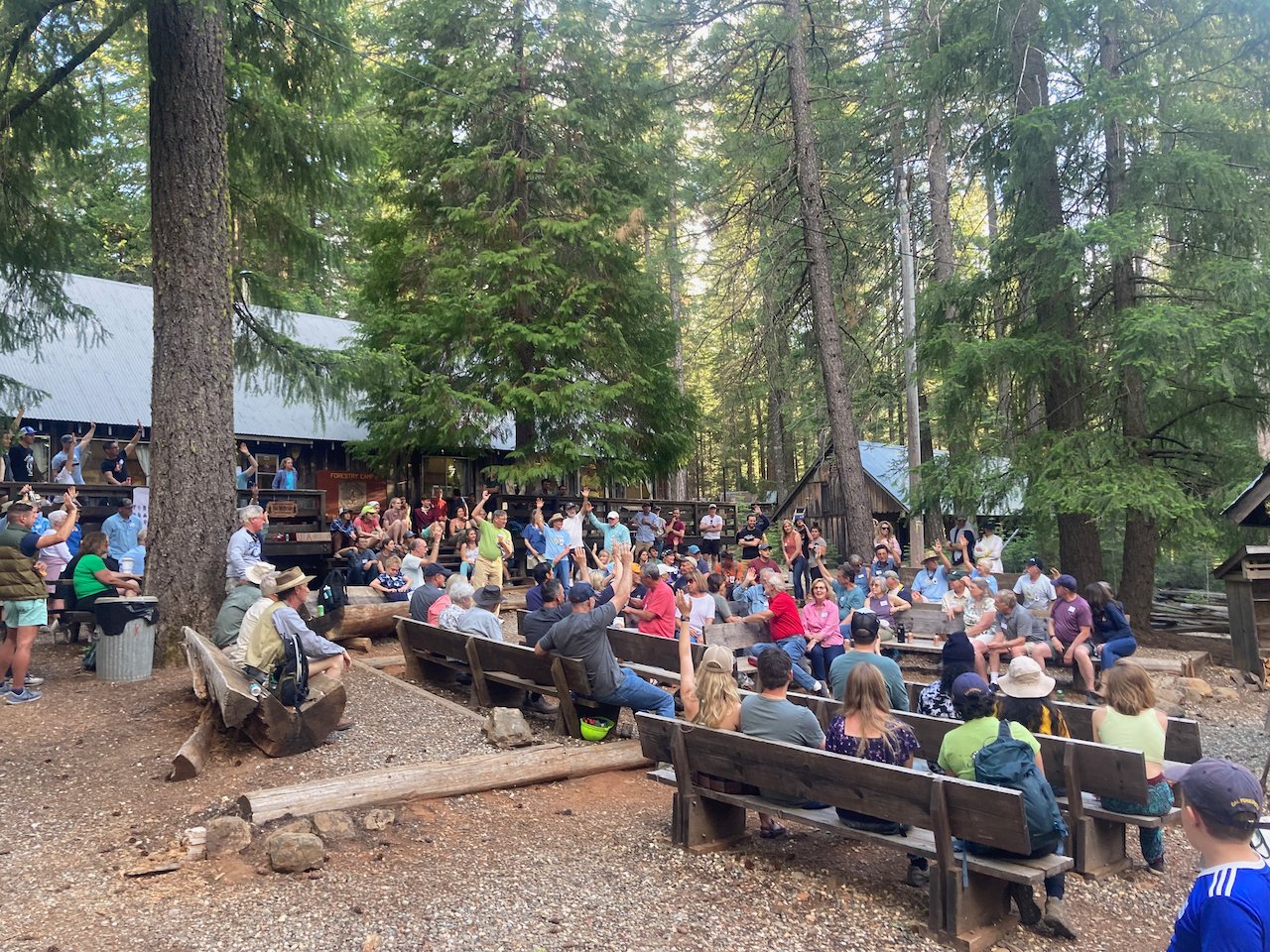 Rausser College of Natural Resources and the forestry program were pleased to host over 170 alumni for the Forestry Summer Camp Reunion Weekend during the second weekend of June. 
The Cal Forestry Field Camp, an annual eight-week intensive program in the mountains of Plumas National Forest, introduces students to the scientific and professional dimensions of natural resource management. Founded in 1915, the camp is a memorable experience for many Rausser College students, and reunion weekend has become a cherished tradition for camp alums. 
While camp itself continued in modified format during the past two years during the pandemic, reunion weekend has been on hiatus since 2020. Many attendees—including members of the class of 1976, who celebrated their 46th reunion this year after the pandemic delayed their 45th reunion plans—expressed how excited they were to be back at camp in person. 
"It was wonderful to celebrate with the class of 1976, and even hear them planning their 50th," said Kathryn Moriarty Baldwin, Assistant Dean of Development and Public Information for Rausser College. "We welcomed alumni from camp classes as far back as 1952. It was outstanding to see alumni, current students, and program faculty having the chance to connect." 
Photos of participants from 1976 are displayed during the 2022 Cal Forestry Field Camp, which was held in-person for the first time since 2019.
Retired Cal Fire Chief Thom Porter, BS '93 Forestry, and Cal Fire Chief Deputy Director Chris Anthony, guest speakers at the forestry camp,emphasized how important the UC Berkeley  Forestry Program is to the state, particularly as agencies face workforce challenges. It will be critical to train the next generation of forestry professionals as climate change, wildfires, and drought continue to threaten our forests and the communities that surround them. 
"The summer at our Forestry Field Camp is a unique experience for each generation of students", said Rausser College Dean David Ackerly. "They become part of a special group of alumni who have shared in this experience, and it was a great pleasure to reconvene for our traditional alumni weekend"
See more photos from the reunion weekend at our Facebook page.